Spain
aacic (Association of Congenital Heart Disease)
Main goals: 
Support service to children, teenagers and youngsters with congenital cardiopathies;
Psycho-social attention service and of accompaniment to families with heart;
Service proferring advice and attention to professionals;
Information and advice service for centers of early intervention and stimulation and professionals who intervene from early childhood;
Information and advice service in educational centers.
Contact
NENS I JOVES AMB CARDIOPATIA
www.aacic.org
Email: info(at)aacic.org
Phone: + 93 458 66 53
---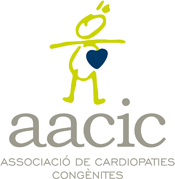 Fundacion Menudos Corazones - Menudos Corazones Foundation
Main goals:
Perform all possible actions to improve the quality of life of patients with CHD and their families;
Inform and guide interested persons, e.g. parents and legal guardians of children and adolescents with heart disease, regarding the medical and social aspects of the disease, in order to give them a better understanding of the exact dimensions of the problem involved;
Help affected families with all their needs, particularly if the are obliged to move to a different city to obtain the required treatment for the children (free housing, creation of mutual help groups);
Give children and young people with heart disease the necessary support to guaranty the total normalisation of their lives;
Make the general population more aware of the problem of congenital heart disease, providing information regarding the incidence of these diseases and their possible therapeutic solutions, and of their multiple social and legal repercussions;
Support research and study into heart disease, its causes, treatment and prevention in childhood and youth, in addition to its social and economic repercussions;
Support communication between different hospitals involved in the treatment of congenital heart disease;
Work towards ensuring that the European Charter for Children in Hospital becomes and effective reality.
Contact
Menudos Corazones Foundation
www.menudoscorazones.org
Email: informacion(at)menudoscorazones.org  
Phone: +34 -91 373 67 46